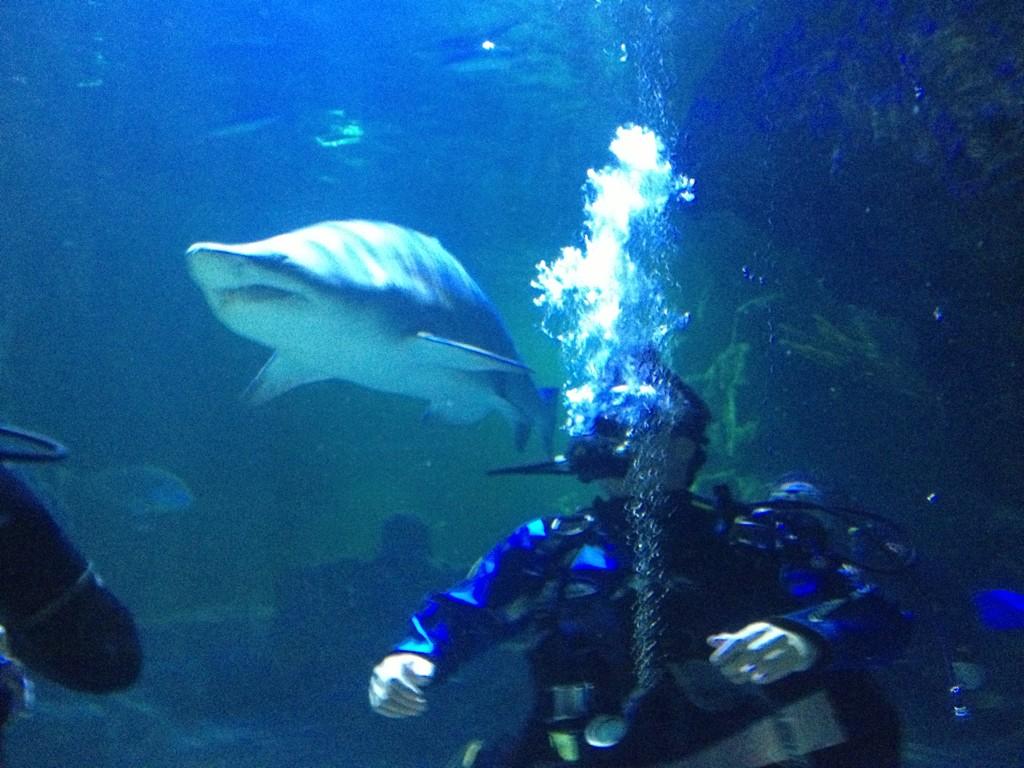 Scottish MEP Alyn Smith today (Wednesday) had a close encounter with live sharks - as part of a personal bid to block a globalthreat to their survival as a species.
Alyn, an SNP member of the European Parliament, donned a drysuit and entered the 4.5 million litre shark tank at Deep Sea World, North Queensferry for a dive with some of the most fearsome creatures on the planet.

The encounter with the sharks - Alyn's first - was undertaken to bring attention to his attempts to obtain a comprehensive ban within the European Union on the barbaric practice of cutting the fins off these magnificent creatures, discarding the rest of the body and leaving them to die slowly and painfully.
This so-called finning is now one of the biggest threats to sharks worldwide, fuelled by a continuing demand from China for the use of fins in soup. These fins can sell for hundreds of Euros per kilogram while the rest of the shark is of relatively low value, which is why it is so often thrown back over the side and left to die a lingering and painful death.

The EU is currently one of the world's largest suppliers of shark fins to East Asia, almost exclusively because of the actions of Spanish and Portugese fishing vessels who exploit a loophole in existing law in order to maximise their profits.

Alyn's dive today with more than 10 sharks - some of them 12 feet long - is intended to publicise his support for the closing of loopholes in the law which allow this killing to take place.  He is seeking a full ban on shark finning when the matter comes up for debate at the European Parliament in Strasbourg next month.

Alyn is a passionate and long-standing campaigner for animal welfare. As well as being a member of the European Parliament's Agriculture Committee, he is also Honorary Vice President of the Scottish Society for the Prevention of Cruelty to Animals and an Honorary Associate Member of the British Veterinary Association.

Alyn said after clambering out of the giant tank: "I have to admit that before the dive I was pretty nervous - after all, sharks don't exactly have the friendliest reputation! But I was given thorough training beforehand and the staff at Deep Sea World - who are as keen on publicising the dangers to the world shark population as I am - were tremendous.

"At the end of the day, I needn't have worried - it was a fantastic experience. Being in the presence of these powerful and hugely noble creatures was astonishing. They are obviously intelligent and thoughtful as well as graceful and beautiful.

He added: "Having the opportunity to be so close to them has redoubled my resolve to see the EU putting in place an unequivocal ban on shark finning, so helping to preserve this wonderful and valuable species.

"Europe's stance on this issue has been confused and contradictory and the legislation is complex. Next month, we have a chance in the plenary session in Strasbourg to put things right and bring in an unequivocal ban. I fully intend to support this and I'm sure my colleagues in the Green/EFA Group at the European Parliament, who are equally committed to action, will feel the same."

Ali Hood, Director of Conservation for The Shark Trust, the UK charity dedicated to shark conservation, said: "We welcome Alyn's support for the shark finning campaign. It is essential that MEPs use their vote to support fins naturally attached with no exceptions."
http://youtu.be/_B6DoZaD9UA